Most small business are not able to support a full-time IT staff, let alone aMac-specific staff. Even companies with a stable of IT professionals find they are often unwilling or unable to support their Mac users. We get it. All computers are faily similar, but Apple support is truly a different world than that of cooperate IT. Fortunately, we live in it full time.
MacKlinik will work with your business to create a flexible support plan that fits your needs and your budget. We realize your time and money are crucial. We can be there in a jiffy to keep your business running smoothly. We're familiar with working alongside existing IT departments and we'll fill the support gaps for your team or company.
Have a PC at work but a Mac at home? Need to use Windows programs on your Mac? No worries! We can translate you how to get your PC work done on your Mac. We can even install Windows on your Mac and keep you working in your Mac environment. We'll keep you connected to your office on the road or at home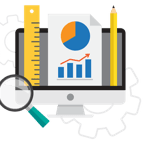 What's Possible…
Assess current and future tech needs, hardware, & software.
New Mac system design including printers, monitors, backups, accessories, network hard drives, etc. Staff training and tutoring on Apple hardware, software, and third-party software.
macOS and iOS system upgrades.
Integrate iPhones and iPads into company workflow.
Hardware and software upgrades and installations.
Perform security audits to assess vulnerabilities.
Configure VPN and remote access to access your company files.