So you just bought your new MacBook Pro, MacBook Air, iMac, iPhone, iPad… Now how do you set it up? How do you get all your stuff from the old computer to the new computer? Getting new devices configured to your liking can be extremely time consuming and frustrating. Installing the software you need, setting up your accounts, and transferring your data from your old devices can be a headache.
MacKlinik will simplify this process and make sure that you new Apple device works as you expect. We have the equipment and expertise to transfer information from older Apple computers, external drives, or even Windows PCs. We then make sure that your email, contacts, calendars, social media accounts, financial accounts, etc. are set up with the updated software that you need.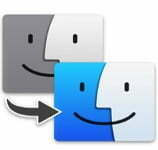 Transfer data from one Mac to another.
Transfer data from an external hard drive, backup, or PC "From scratch" setup with no data transfer.
Installation and initialization of apps and third party software post transfer.
Help with signing into password-protected apps and accounts with two-factor authentication.
In-home setup to connect to printers, WiFi, and other peripherals.
New Mac hardware and software tutorial.
Setup of Face ID and Touch ID.
Configuration of additional security software such as VPN, firewall, disk encryption etc.
Explanation of new macOS and iOS features and updates.
Email and other account setup.
Old Mac and other hardware recycling.