With new tips and tricks emerging daily, MacKlinik maintains a virtual library of troubleshooting solutions, useful apps, and syncing tricks to keep your iPhone or iPad efficiently assisting your life. We also offer full set up and support services for all Apple Accessories. This includes Apple Watch, Apple TV, Airplay speakers, Home Pod, AirPods, and many many more. These brilliantly designed accessories can unlock a new world of possibilities to make life more enjoyable.
Not sure which iPad or iPhone model or size is right for you or your family and budget? Schedule an appointment to have us analyze your needs and recommend the configuration that fits best.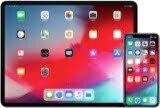 What's Possible…
Learn about and download useful apps for your iPhone and iPad that fit your life.
Sync your information between your computer and your iPhone or iPad.
Video chat or conference with FaceTime, Zoom or Skype.
Use Apple TV to connect to all of your favorite streaming services like Netflix, HBO, Amazon, and Hulu.
Synchronize your personal iPad or iPhone with your work email, contacts, and calendar.
Setup touchless transactions using Apple Pay and Apple Wallet.
Play music wirelessly throughout your home using Homepod, AirPlay speakers, Sonos, Alexa, or your own speakers.
Learn to use Airpods hands free to wirelessly make calls and listen to music, podcasts, and videos.
Use Apple Watch to track your steps, heart rate, breathing, and more. Oh, and it tells time!
Learn how to sync all your devices together using iCloud.
Use Siri to create calendar events, set reminders, read text messages, and call friends.
Use AirPlay to send your Mac or iPhone's screen to your TV, making it a wireless external monitor.